City Linux - Integration with Windows, Apple and Android. .
2015-10-21: Using Linux servers can save even quite small companies thousands of pounds in acquisition costs, license fees and maintenance charges.
To access common office applications like word processing, spreadsheets, databases, web browsers, e-mail etc. running Linux on the desktop is also a good option.
Potentially your whole computer system can be robust and free but some businesses find that there are some specialist applications that are more readily available under MS Windows and that their staff prefer to stick with the office applications they know well, in these circumstances it makes sense to integrate Linux servers with Windows on the desktop.
Because Apple computers also use a version of UNIX it is even easier to integrate Apple devices with Linux server application.
Linux file servers can provide those essential shares needed across the business. Home directories can also be maintained on a central Linux file server to ensure resilience and availability not only across the enterprise but also away from the office using secure virtual networks.
Secure, robust mail servers can make mail available to users on any platform including tablets, mobile phones, laptops and PDAs. Familiar applications can be configured to read and send mail via your secure Linux mail server.
Groupware is readily available on Linux allowing you to maintain user, group and business wide diaries and co-ordinate the booking and use of resources. Linux servers also enable the keeping of centrally maintained, secure address books for individuals, groups or the whole organisation.
You can run multiple Linux web servers for internal office use, web site development and testing, supporting job ticketing systems and a myriad of other applications. With even a quite modest internet connection you can host your own internet web servers.
Linux has powerful firewalling technology available at its core. You can run multiple firewalls protecting your network and servers from the internet, controlling connections to satellite offices, partitioning visitor connections from core office network functions and so on.
Linux can provide DNS and DHCP servers to centrally manage the names and network addresses of all your computers, printers, scanners, laptops, PDAs, tablets and other digital devices.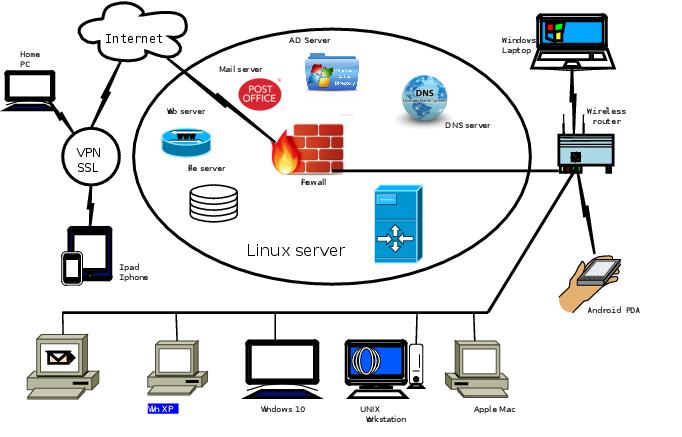 Call Clifford on 0793 572 8612 to find out how your IT systems can benefit from Open Source applications, Linux servers and systems integration.